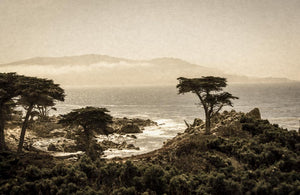 The Lone Cypress is a fixture of Pebble Beach and Monterey area.  Beautiful, peaceful and serene.  Memories of times past whether on vacation or rounds of golf as some of the most spectacular coastline.

A contemporary view with a vintage look and feel.
All work are editions, signed and numbered.
Custom proportional sizes and framing option available.  Call 858-549-8881 or email with your specifications for a quote.