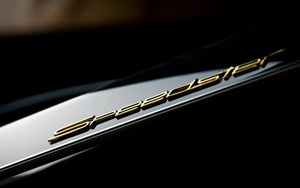 A rare classic Porsche Carrera Speedster, the low cost Porsche with the 4 cam motor.  It is certainly not a low price ride anymore.  This was very limited light weight car that was really fast.
Can you imagine cruising anywhere in this beauty?
A contemporary view with a vintage look and feel.
All work are editions, signed and numbered.
Custom proportional sizes and framing option available.  Call 858-549-8881 or email with your specifications for a quote.