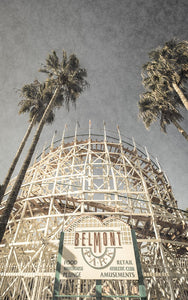 Feel the thrill in your stomach of a roller coaster, especially a wooden one will bring back a flood of memories.  The Belmont Park "Big Dipper" coast was built in 1925 and is the cousin to the coaster in Santa Cruz.

A contemporary view with a vintage look and feel.
All work are editions, signed and numbered.
Custom proportional sizes and framing options available.  Call or email for details 858-549-8881