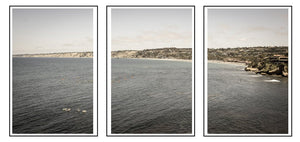 La Jolla Shores, Beach and Tennis Club, Scripps Pier, Torrey Pines Golf and Glider launch area all the way north to Del Mar with Kayaks.  Whether a surfer, beach goer, golfer, hanglider or oceanographer, this will bring on the memories.  Can you see yourself on the beach, hang gliding, playing a round of golf at Torrey Pines or Kayaking off La Jolla Shores.

A contemporary view with a vintage look and feel.
All work are editions, signed and numbered.
Custom proportional sizes and framing options available.  Call or email for details 858-549-8881