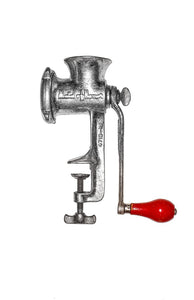 Can you remember when your Mother or Grandmother used one of these?  Could be left overs from Sundays roast or making chopped liver.  Whatever was put in, came out as a spread or just hamburger.
As a kid, did you have to turn that handle? I did, first because I wanted to, then it became a chore.  All good.
A contemporary view with a vintage look and feel.
All work are editions, signed and numbered.
Custom proportional sizes and framing options available.  Call or email for details 858-549-8881