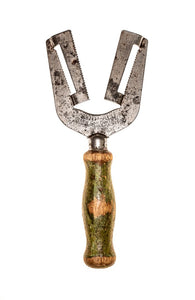 The was the go to in the kitchen to open a sticky lid.  Not sure what it does, check it out enlarged and you will see the teeth on the inside edges to grip a tight lid.
Imagine this interesting object on a wall in a room that can use a bold green accent or part of a group of kitchen tools.
A contemporary view with a vintage look and feel.
All work are editions, signed and numbered.
Custom proportional sizes and framing options available.  Call or email for details 858-549-8881