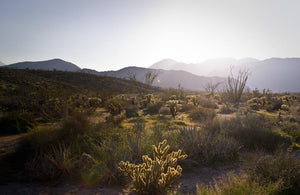 This desert view features Cholla cactus just off Highway 78 east of Julian (San Diego County) in the Anza-Borrego Desert State Park, south of Borrego Springs.
You have kind of seen this view if you have driven Hwy 78 to the west, but until you get out of the car and walk in a ways you will never see the real beauty.
Jumping Cholla with it's friend Ocotillo in the background.
A contemporary view with a vintage look and feel.
All work are editions, signed and numbered.
Custom proportional sizes and framing options available.  Call or email for details 858-549-8881