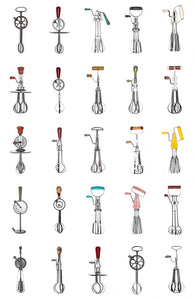 A grouped selection of 25 vintage Egg Beaters for proportions of 1:1.5  Appropriate on any wall needing some vintage simple color accents in a contemporary styles.  Imagine the memories and stories generated when sharing this with friends and guests.
All works are editions, signed and numbered.
Vintage with a contemporary style.
Custom proportional sizes and framing option available.  Call 858-549-8881 or email with your specifications for a quote.